My children's allowances – Phase 2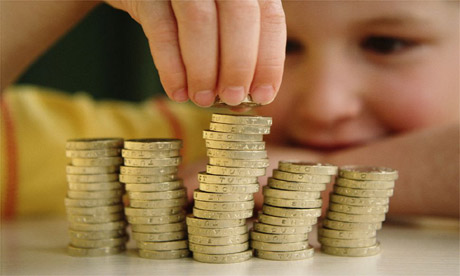 Google Images 
Since January this year I have been giving weekly allowances to my younger children.  
Abang, our only son who is 13 and his sister, Nana, 12 years old both get allowances, whilst the youngest Ain, 9 years old has been told to wait.  (I thought she was a little too young.) 
Abang and Nana also have to write up their receipts and payments in an accounts book which they have to show me each time they receive their allowance. 
And they have to save at least 10% of their allowances. 
On the 2nd June, all four of us went to the bank and banked in their savings into their accounts. (In Ain's case, I contributed some money. I was a little surprised when she reminded me about the promise I had made on her savings.) 
Now we have changed the allowance interval to monthly for Abang and Nana. They still have to keep their accounts books updated, and save at least 10%.  
Ain has also asked for an allowance and an accounts book. She has been started off on a weekly allowance and I have showed her how to write up her accounts. She surprised me with her understanding of how the spending should be done. I think she will be a frugal spender.  
These are the money lessons we have learnt over the last 5 months. 
a)    The boy "misplaced" his accounts book. As such I could not sit with him and reconcile the amounts shown as "savings" in his accounts book and the amount banked in. This upset me a bit. A new book has been bought for him to start the monthly accounts, and he has been given a "lecture" on not to misplace the book again.  
b)    Nana, on the other hand, went out with her friends on an outing and spent almost all her savings. She now fully understands how easy it is to spend something that took so long to save up. Her record keeping is meticulous and, I must say, excellent.  
The lessons may not seem much, still, my children have learnt more in the past 5 months than in all their lives before this. I have some regrets about not starting this allowance system earlier, but better late than never, right?
At least some hard money lessons are being learnt now and the stage is being set for the "always earn more than you spend" talk with my children.                
Categories: